Identify Yourself...

With a beautiful custom strap handcrafted in our own shop, cut from the finest #1 grade leathers we can find; sweet, smooth topgrain top and bottom. Interior of strap has layer of special foam padding- Super Comfortable! Adjusts to fit anyone; from 43" (hole to hole) at shortest setting to 54" at longest. (Special lengths by request). Width: tapers 3" to 2 1/2" at bottom.




Ain't no import cheapie- We have made these fine straps for years for our musical customers the world over (including George Jones, Lynyrd Skynyrd, Aerosmith and a host of others...); you'll love it!

Buyer can submit up to 8 letters for name. (We can do more letters, but they will be smaller, 3/4" instead of standard 1"). Symbols available: Musical Notes, Star, Cross, others as shown in pix.


1-2-3 Easy to Order!

1) Choose your Strap Color: Main body of strap can be done in Black, Dark Brown, or Light Brown.

2) Choose the Letter area Overlay: Black, Dark Brown, or Light Brown.

3) Choose your Letter Color: Standard Saddle Tan, Red, Blue, Yellow, Green, Black, White, Gold, or Silver.

You can email your choices accompanying payment, or call us on the phone to discuss the options.


* * * * * * * * * * * * * *


Proudly Handcrafted in the USA by Dangerous Threads, Nashville, TN. Our 25+ years of manufacturing experience assures you Top Quality Merchandise.

Please allow 2 to 3 weeks lead time for expert custom work. Regular Retail for this kind of quality would be many times the price...




Click to Enlarge
Click to Enlarge
Click to Enlarge
Click to Enlarge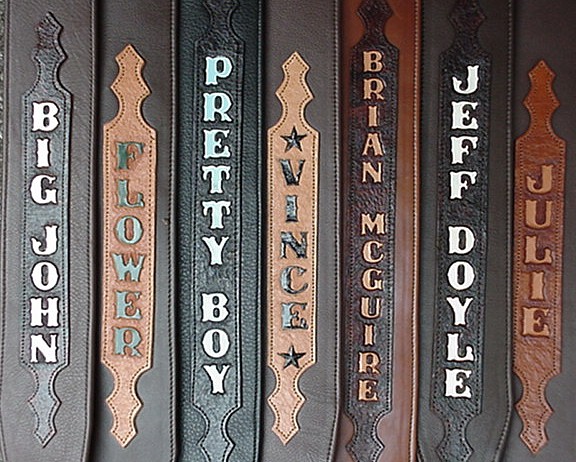 Click to Enlarge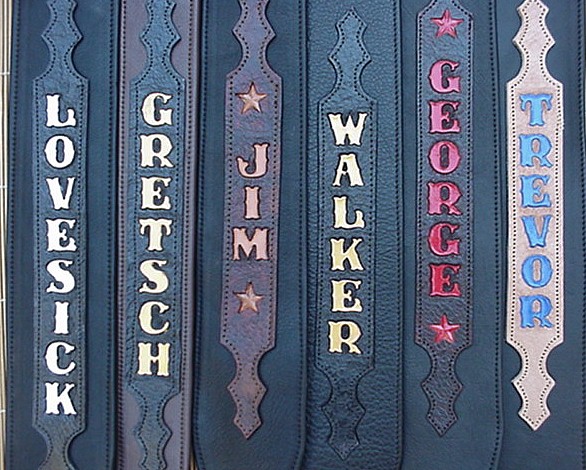 Click to Enlarge
SquareTrade © AP6.0
We guarantee all our Online Customers 100% satisfaction or your money back! If you have any questions about this listing or any of our other items, Call 1-800-678-6808 toll-free or 615-353-5515 for prompt customer service.
Dangerous Threads, Inc Nashville, TN Established 1988