The Traditional "Good Luck" Charm-

Natural, undyed rabbits' feet with range of beautiful Grey, Brown and White colorations as shown; Harvested and professionally prepared in Western USA. A-1 quality, with sturdy silver colored chain for stringing keys.

This lot: 4 pieces Genuine Rabbit Foot Keychains ready for use. (Note: Our resident Rabbit's Foot expert insists the natural, undyed variety bring the best luck...)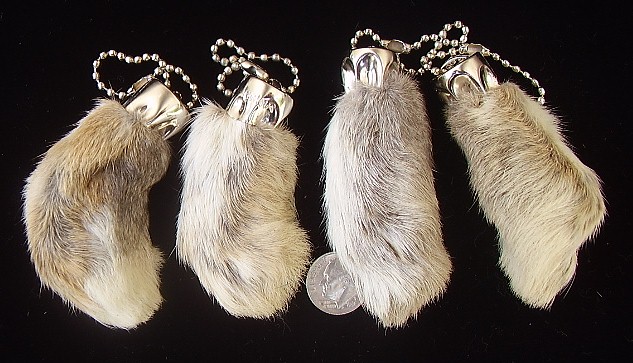 Average length is between 2 and 2 1/2 inches. Please note: Our digital pictures are excellent, and descriptions accurate, but color shades vary from computer to computer.


Proudly Distributed by Dangerous Threads, Nashville, TN. Our 25+ years of manufacturing experience assures you Top Quality Merchandise.

We guarantee all our Online Customers 100% satisfaction or your money back! If you have any questions about this listing or any of our other items, Call 1-800-678-6808 toll-free or 615-353-5515 for prompt customer service.

Dangerous Threads, Inc Nashville, TN Since 1988