A Great Deal on Good Quality Leather!


This lot: Approximately 9 Square Feet Mixed Light and Medium Weight (range 2 to 4 oz) Natural Veg Tan Leather Cowhide Split pieces. Great for inexpensive "practice" leather work.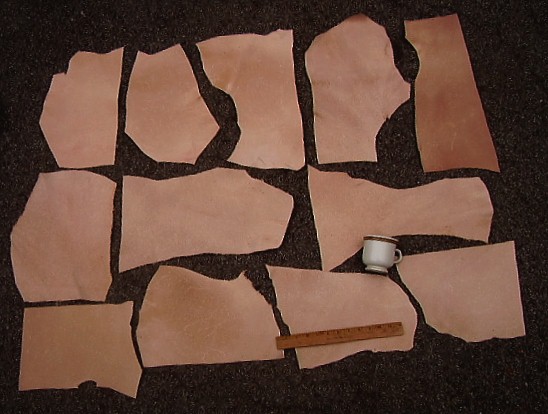 Natural Undyed Veg Tan Cowhide Splits: In the tanning process, when veg tan topgrain sides are processed, the underpart of the side (known as the split) is separated and sold separately. Grainy on both sides, they are light weight (ranging approximately between 2 to 4 ounce, about 1/16" thick) with pleasantly firm hand. Natural light tan brown color, and are relatively even in thickness and consistency for splits. A lot of great leather for the money!! Costs way more on the open market, if you can find it... We have shipped thousands of pounds of our splits to happy customers all over the country.

Great for knife sheaths, pet toys, key fobs, straps, Native American crafts, wallet and purse linings, coaster bottoms, fringes and trims, garment applications; inlays, repairs, patches, woodburnings, scout crafts, and a thousand other uses...

Please note: We have quite a few of these pieces; they are excellent quality, but vary in size and shape, as all leather does; Winner will get between 10 and 15 pieces, 2 pounds of leather, about 9 Square Feet, similar to the ones pictured. Each piece is at least 1/2 square foot, most of them bigger.


Proudly Distributed by Dangerous Threads, Nashville, TN. Our 25+ years of manufacturing experience assures you Top Quality Merchandise.

We guarantee all our Online Customers 100% satisfaction or your money back! If you have any questions about this listing or any of our other items, Call 1-800-678-6808 toll-free or 615-353-5515 for prompt customer service.

Dangerous Threads, Inc Nashville, TN Since 1988