The Classic Exotic Leather...
Snake Skin: Used for inlays, ornamentation, decoration; unbacked; natural skins... Generally priced much higher on the open market.

This lot: 6 assorted pieces, each 1 foot long, Genuine Snakeskin pieces similar to picture.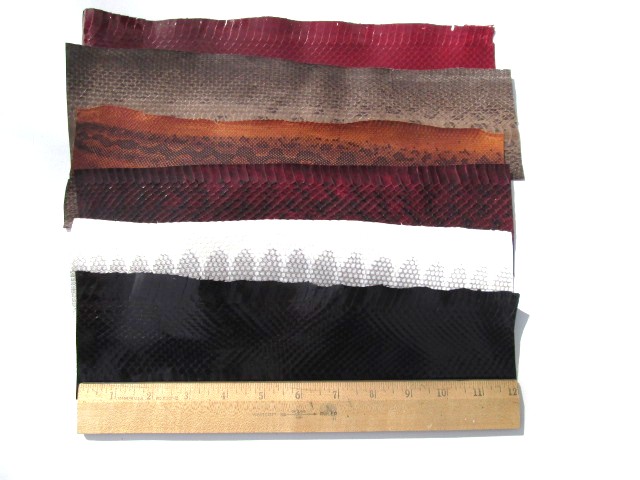 About our Snake Skin Grab Bag:

* Pieces are cut from Grade A snakeskins. No holes, tears or bad spots. Glossy or Semi-gloss finishes, tight scales.
* Each Grab Bag contains 6 pieces, each 1 foot long. Widths vary from about 2 1/2 to 5 inches.
* Selection will include any of the following: Whipsnake, Ayer, Python, Cobra, Seasnake, Elaphe, Karung, and others depending on availability.
* Color Assortment: We always ship a nice assortment similar to picture: Black, Shades of Brown, Red, natural, and other unusual colors, a "grab bag" that varies with availability.

Great for Native American Crafts, Wallets, Check Book Covers, Bookmarks, Inlays, Small Cases, Garment trims and accents, Scout projects, Handle wraps, Cool decorations, and a thousand other uses...


Please Note:
Our digital pictures are excellent, and descriptions accurate, but color shades vary from computer to computer.




Proudly Distributed by Dangerous Threads, Nashville, TN. Our 25+ years of manufacturing experience assures you Top Quality Merchandise.
We guarantee all our Online Customers 100% satisfaction or your money back! If you have any questions about this listing or any of our other items, Call 1-800-678-6808 toll-free or 615-353-5515 for prompt customer service.
Dangerous Threads, Inc Nashville, TN Since 1988